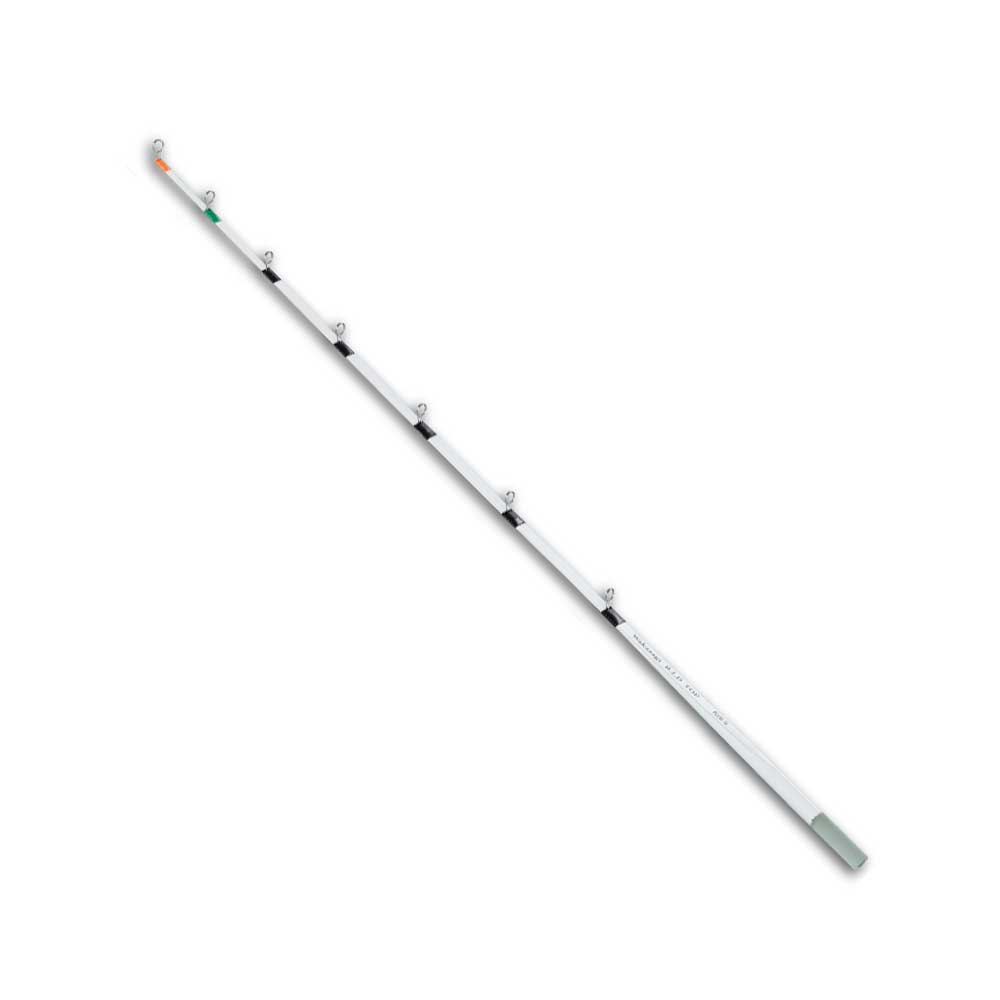 Exclusive Rod Tips for Wakasagi Electric Reels
We pursued sensitivity, lightness, and ease of hooking.
5mm-diameter rod tips designed exclusively for attaching to electric reels of wakasagi (Japanese smelt) fishing.
In contrast to conventional models that produce the rod action only with up-down shape, B.I.D TOP achieves even higher sensitivity by adding side shape to the design. Equipped with high-legged guides that resist freezing on ice. The tips are equipped with fluorescent orange and green threads to increase visual sensitivity. We reduced the use of adhesives and threads to the extreme to achieve further weight reduction.

LINE UP
| MODEL | MODEL | LENGTH (cm) | PIECES | CLOSED LENGTH (cm) | WEIGHT (g) | BUTT DIA. (mm) | SINKER WEIGHT(g) | ACTION | GLASS (%) | MSRP | JAN CODE |
| --- | --- | --- | --- | --- | --- | --- | --- | --- | --- | --- | --- |
| WAKASAGI BID TOP | R28 SS (SLOW) | 28.0 | 1 | 28.0 | 3.1 | 5.0 | 1-4 | 6:4 | 100 | ASK | 4516508 59165 1 |
| WAKASAGI BID TOP | R28 S (SLOW) | 28.0 | 1 | 28.0 | 3.2 | 5.0 | 2-6 | 6:4 | 100 | ASK | 4516508 59166 8 |
| WAKASAGI BID TOP | F28 SS (FAST) | 28.0 | 1 | 28.0 | 3.3 | 5.0 | 1-4 | 7:3 | 100 | ASK | 4516508 59167 5 |
| WAKASAGI BID TOP | F28 S (FAST) | 28.0 | 1 | 28.0 | 3.4 | 5.0 | 2-6 | 7:3 | 100 | ASK | 4516508 59168 2 |
| WAKASAGI BID TOP | F28 M (FAST) | 28.0 | 1 | 28.0 | 3.5 | 5.0 | 4-10 | 7:3 | 100 | ASK | 4516508 59169 9 |
| WAKASAGI BID TOP | F22 SS (FAST) | 22.0 | 1 | 22.0 | 2.7 | 5.0 | 1-4 | 7:3 | 100 | ASK | 4516508 59170 5 |
| WAKASAGI BID TOP | F22 S (FAST) | 22.0 | 1 | 22.0 | 2.8 | 5.0 | 2-6 | 7:3 | 100 | ASK | 4516508 59171 2 |
| WAKASAGI BID TOP | F22 M (FAST) | 22.0 | 1 | 22.0 | 2.9 | 5.0 | 4-10 | 7:3 | 100 | ASK | 4516508 59172 9 |
| WAKASAGI BID TOP | F22SSS (FAST) | 22.0 | 1 | 22.0 | 2.6 | 5.0 | 0.5-3 | 7:3 | 100 | ASK | 4516508 59173 6 |
| WAKASAGI BID TOP | F28SSS (FAST) | 28.0 | 1 | 28.0 | 3.2 | 5.0 | 0.5-3 | 7:3 | 100 | ASK | 4516508 59174 3 |
| WAKASAGI BID TOP | R28SSS (SLOW) | 28.0 | 1 | 28.0 | 3.0 | 5.0 | 0.5-3 | 5:5 | 100 | ASK | 4516508 59175 0 |