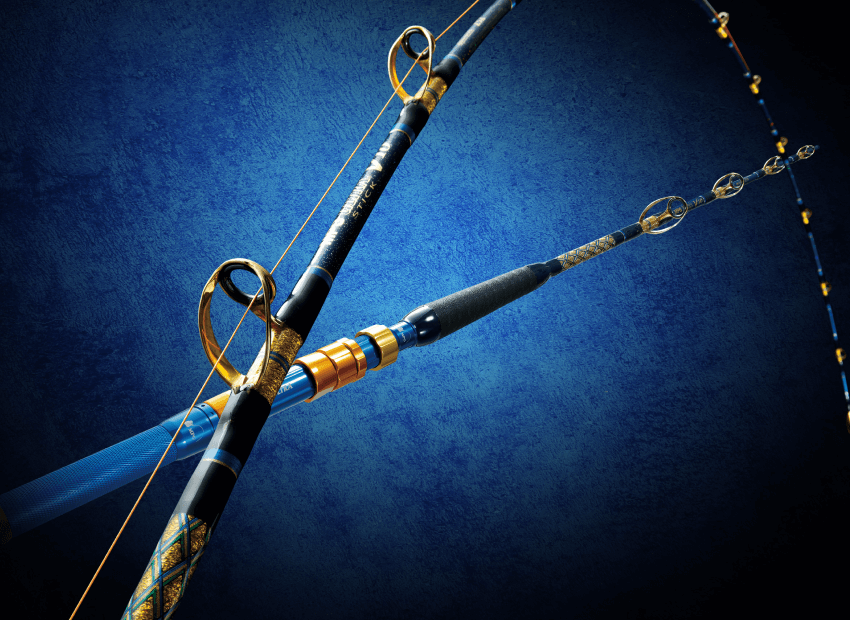 The High-end Allrounder with alphatackle's History "ULTRA V10"
For multi-purpose such as "komase" (chumming), live-bait fishing, the characteristic functions of the MPG material exhibit its performance and exceed the limit of anglers. "We want more anglers to experience the ULDP blank made with the MPG material." This MPG ULTRA V10 is a flagship rod series made with such a wish.
The GCULDP blank selected for this rod is a different variation of ULDP that has a medium-elasticity carbon material in the central axis surrounded by the multilayer of the MPG pre-preg. This blank is lighter and slimmer but has the similar feeling and power, strength and flexibility. You can experience the advantages of MPG ULDP easily.
The "extra ferrule" under the blank is almost same strong as non-separated-1-peice rods due to the doubled length of the inner shaft.
The combination of GCULDP with extra ferrule makes the portability and light weight with power together. The exciting big games with many kinds of fish is possible with the light feeling. Not only for the anglers who already knows the potential of MPG rods, but also for who haven't ever touched MPG rods, this rod should be interesting one to enjoy the big fights with the MPG.
The rod actions from 0 power model to 4 power model are same. You can choose the best one for your target fish and the strength of the line, and enjoy the light feeling of MPG on several kinds of fish.

LINE UP
| MODEL | LENGTH (cm) | PIECES | CLOSED LENGTH (cm) | ROD WEIGHT (g) | TIP DIA. (mm) | BUTT DIA. (mm) | SINKER WEIGHT (#) | SINKER WEIGHT (g) | LEADER LINE (#) | L1(mm) | L2(mm) | MSRP | JAN CODE |
| --- | --- | --- | --- | --- | --- | --- | --- | --- | --- | --- | --- | --- | --- |
| 230 | 230 | 1+B | 194 | 525 | 1.85 | 14.6 | 40-80 | 150-300 | 2-12 | 665 | 320 | ASK | 4516508 03928 3 |
| 231 | 230 | 1+B | 194 | 560 | 2.25 | 14.6 | 60-100 | 230-380 | 4-16 | 665 | 320 | ASK | 4516508 03929 0 |
| 232 | 230 | 1+B | 194 | 720 | 2.35 | 16.8 | 120-200 | 450-750 | 8-30 | 665 | 320 | ASK | 4516508 03930 6 |
| 233 | 230 | 1+B | 194 | 765 | 2.5 | 16.8 | 150-300 | 560-1130 | 12-50 | 665 | 320 | ASK | 4516508 03931 3 |
| 234 | 230 | 1+B | 194 | 970 | 2.8 | 19.6 | 200-350 | 750-1310 | 20-70 | 665 | 320 | ASK | 4516508 03932 0 |
GCULDP BLANK STRUCTURE

The blank's structure with super multilayered MPG material centering an axis of medium elasticity carbon. The slim blank reduces the rod's weight as maintaining the rod power.

Fuji IGKWSG GUIDES

Fuji IGKWSG guides reduce troubles with the tangled line. The guides are fixed firmly on the blank by the double wrapping process.

Fuji IGHBSG GUIDES

The heavy-duty guides with the light weight and high durability. The guides are fixed firmly on the blank by the double wrapping process.

EXTRA FERRULE

The almost same strength as non-separated-1-peice rods due to the doubled length of the inner shaft.

STRAIGHT FIT HOOD

The hood part of the reel seat does not turn around and the reel can be set firmly and easily.

LONG NUT & LOCK SUPPORTER

The long nut and the lock supporter hold the reel firmly.

ALUMINUM END WITH 360°ROTARY RING

The butt hand rope doesn't tangle due to the rotary ring