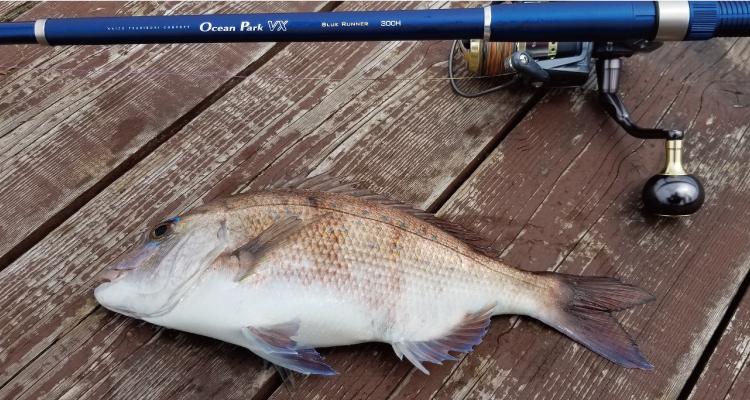 Special Rod for Fishing at Pay Ponds on the Sea
This special model is designed specifically for fishing at pay ponds on the sea and can be used by beginners and veterans alike.
With the versatile "M" type and the heavy-duty "H" type for larger fish, it is suitable for a wide range of target fish.
The length can be selected to match the size of the fishing pond.

LINE UP
| MODEL | LENGTH (m) | PIECES | CLOSED LENGTH (cm) | WEIGHT (g) | TIP DIA. (mm) | BUTT DIA. (mm) | SINKER WEIGHT (g) | LEADER LINE (#) | CARBON (%) | GLASS (%) | MSRP | JAN CODE |
| --- | --- | --- | --- | --- | --- | --- | --- | --- | --- | --- | --- | --- |
| RED SNAPPER 300M | 3.0 | 4 | 88.0 | 215 | 1.6 | 25.0 | 0.5-15 | 3.0-10 | 66 | 34 | ASK | 4516508633412 |
| RED SNAPPER 350M | 3.5 | 4 | 100.0 | 260 | 1.6 | 27.0 | 0.5-15 | 3.0-10 | 66 | 34 | ASK | 4516508633429 |
| BLUE RUNNER 300H | 3.0 | 4 | 88.0 | 240 | 2.0 | 25.0 | 0.5-18 | 4.0-12 | 66 | 34 | ASK | 4516508633436 |
| BLUE RUNNER 350H | 3.5 | 4 | 100.0 | 275 | 2.0 | 27.0 | 0.5-18 | 4.0-12 | 66 | 34 | ASK | 4516508633443 |