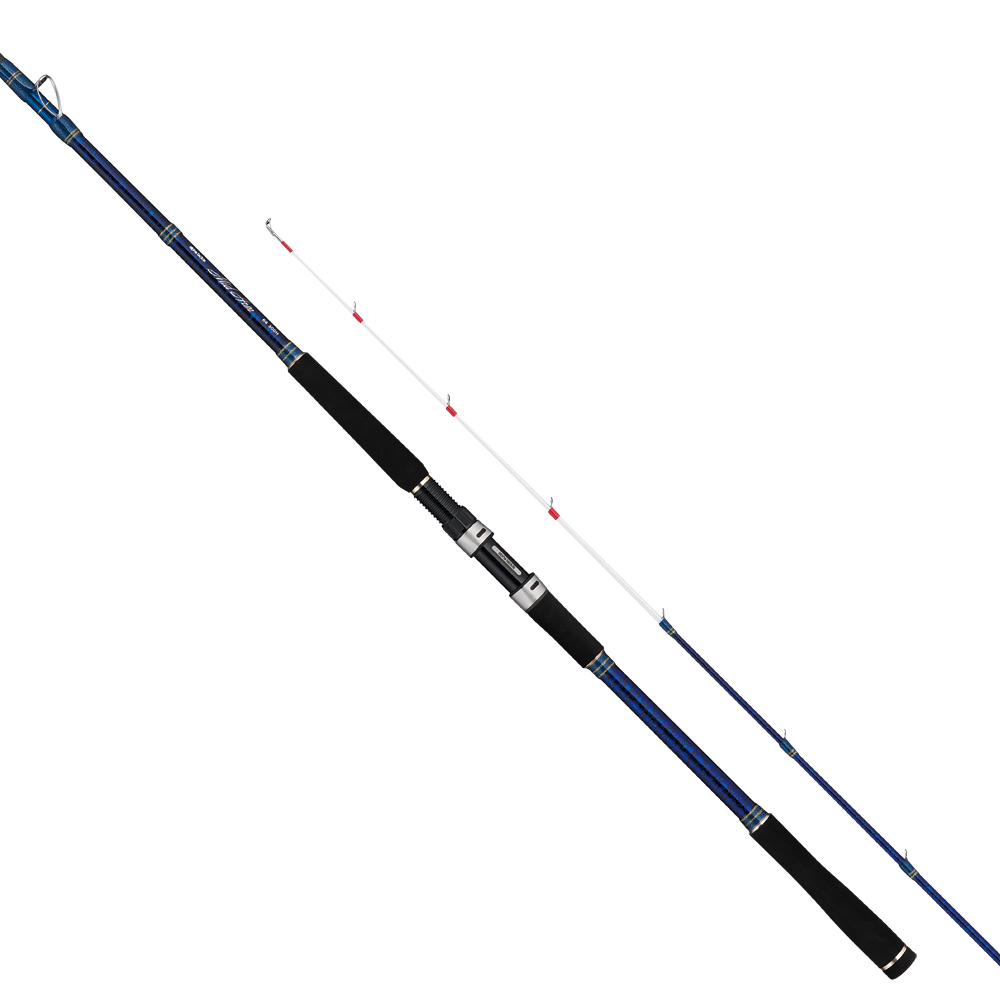 All-Rounder Series of Medium Length Rods and Long Rods
The 64 models with slow action have flexible bending as their feature and let the fish bite naturally. The blank absorbs shock with a smooth bending curve according to the load and avoids breaking line and hook-out. On the other hand, 73 models with regular action pursues high versatility to all kinds of fish species and fishing methods. The classic action has been used also in alphatackle's successive rods and has shown excellent performance.
The lineup covers fish species and fishing methods from all over Japan.


LINE UP
MODEL
LENGTH (cm)
PIECES
CLOSED LENGTH (cm)
ROD WEIGHT (g)
TIP DIA. (mm)
BUTT DIA. (mm)
SINKER WEIGHT (#)
SINKER WEIGHT (g)
L1(mm)
L2(mm)
MSRP
JAN CODE

64-300MH

300
3
104.5
226
2.0
15.7
50-100
190-380
650
395
ASK
4516508 51380 6

64-330MH

330
3
114.5
270
2.0
16.5
50-100
190-380
650
395
ASK
4516508 51381 3

64-300H

300
3
104.5
261
2.2
17.8
60-120
230-450
650
395
ASK
4516508 51382 0

64-330H

330
3
114.5
295
2.3
19.0
60-120
230-450
650
395
ASK
4516508 51383 7

73-210M

210
2
108.5
136
1.3
10.5
30-80
110-300
610
355
ASK
4516508 51384 4

73-210MH

210
2
108.5
156
1.5
11.3
50-100
190-380
610
355
ASK
4516508 51385 1

NEW

73-240M

240
2
123.5
147
1.3
11.2
30-80
110-300
610
355
ASK
4516508 51393 6

73-240MH

240
2
123.5
177
1.5
12.5
50-100
190-380
610
355
ASK
4516508 51386 8

73-210H

210
2
108.5
198
1.8
13.9
80-180
300-680
610
355
ASK
4516508 51387 5

73-240H

240
2
123.5
217
1.8
13.8
80-180
300-680
610
355
ASK
4516508 51388 2
BLUE APATITE COLORING

Fuji GUIDE

All guides equipped on the rod are LC and LDB made by Fuji.

CS45-T

Original reel seat of alphatackle for technical fishing. The simple shape and small trigger part fit to the palm. (Equipped on M and MH models.)