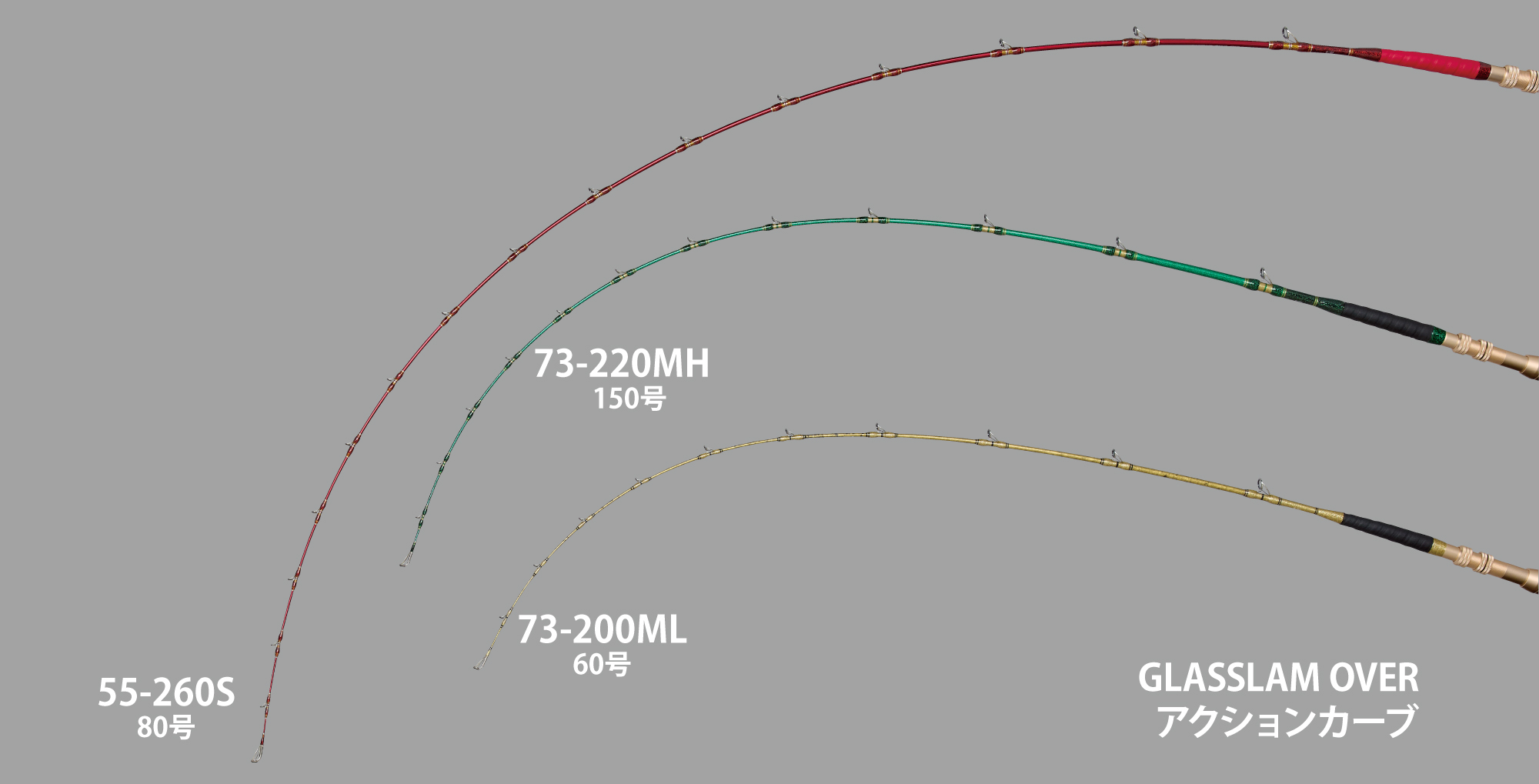 Brushed-up Series of GLASSLAM with Higher Specs
Versatile rod series "GLASSLAM" was brushed-up with higher specs. A new glass material in higher level and Fuji SiC guides on it make GLASSLAM more comfortable and more exciting. You will surely find the fun of fishing with the fully bending glass solid blank.

Cautions
*Due to its structure, the ferrule joint model is not suitable for heavy-duty deep sea fishing or live-bait fishing. If you use it for such purposes, there is a possibility that the joint part may break. Please refrain from using them for these fishing styles.
*Because the reel seat made of aluminum is not as flexible as resin reel seats, there is a possibility that your reel may not fit to the reel seat of this rod. Please check the compatibility of this reel seat with your reel by yourself before purchasing it. Especially, please be careful of very compact low-profile reels.

LINE UP
MODEL
LENGTH (cm)
PIECES
CLOSED LENGTH (cm)
ROD WEIGHT (g)
TIP DIA. (mm)
BUTT DIA. (mm)
SINKER WEIGHT (#)
SINKER WEIGHT (g)
L1(mm)
L2(mm)
MSRP
JAN CODE

55-260S

260
1+B
222.5
595
2.2
9.0
40-120
150-450
620
310
ASK
4516508 51626 5

73-200ML

200
1+B
162.5
560
2.0
8.6
30-100
110-380
620
305
ASK
4516508 51628 9

73-220MH

220
1+B
182.5
650
2.4
12.5
80-250
300-940
620
305
ASK
4516508 51627 2

NEW

170ST

170
1
170
605
2.9
11.9
100-300
380-1130
545
260
ASK
4516508 51629 6

NEW

180SW

180
1
180
623
2.9
12.4
100-300
380-1130
545
260
ASK
4516508 51630 2

NEW

200ML

200
1+B
162.5
498
2.0
8.6
30-100
110-380
620
305
ASK
4516508 51608 1