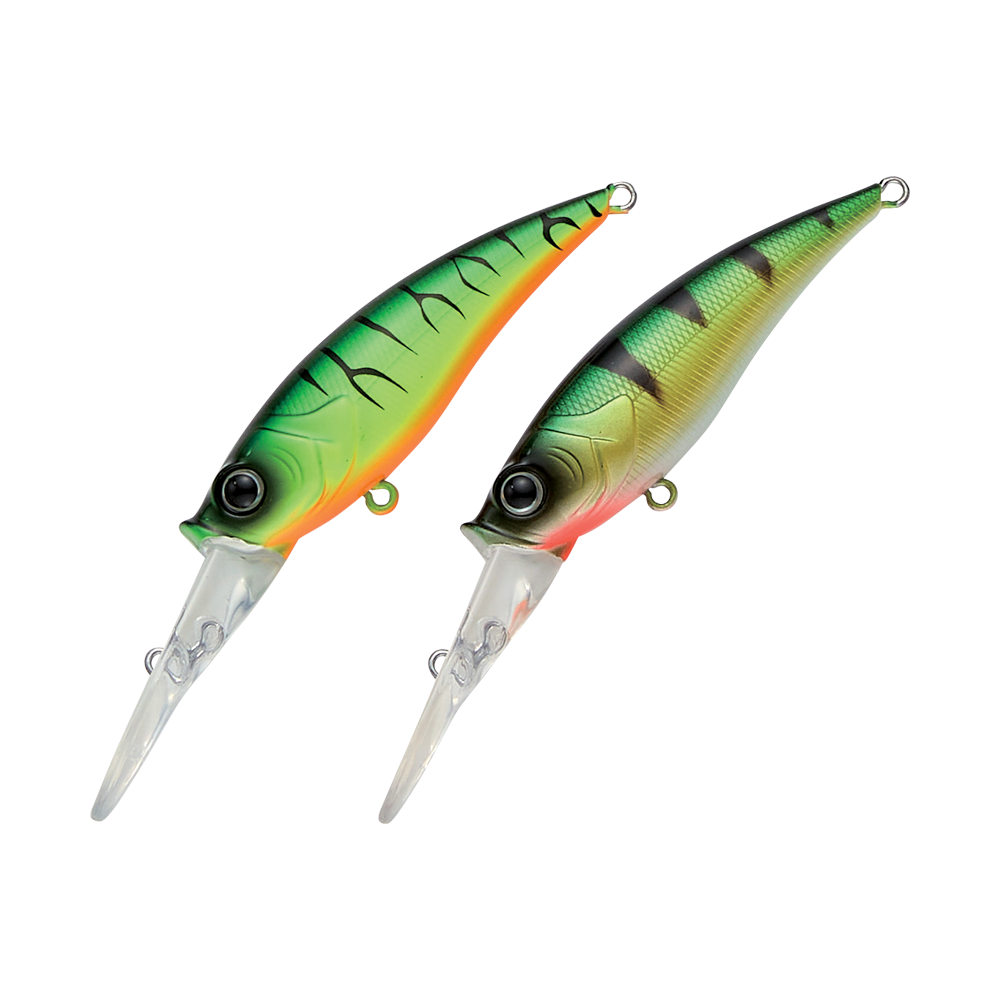 Most Standard Shad
With straight retrieving, this lure produces a high-pitched vibration regardless retrieving speed from ultra-slow or high-speed, creating a movement that mimics the escape of small fish.
During twitching, it effectively releases water resistance and expresses the movements of weakened small fish.
It is particularly effective in tough situations where bites are rare, such as during low-water temperatures or sudden changes in conditions.

LINE UP
| MODEL | COLOR | COLOR | LENGTH (mm) | MSRP | JAN CODE |
| --- | --- | --- | --- | --- | --- |
| 59SF/SR | #1 GHOST WAKASAGI | 5.3 | 59 | ASK | 4516508 24389 5 |
| 59SF/SR | #2 MIRROR WAKASAGI | 5.3 | 59 | ASK | 4516508 24390 1 |
| 59SF/SR | #3 PEARL AYU | 5.3 | 59 | ASK | 4516508 24391 8 |
| 59SF/SR | #4 NOIKE GILL | 5.3 | 59 | ASK | 4516508 24392 5 |
| 59SF/SR | #5 SKELETON CHART | 5.3 | 59 | ASK | 4516508 24393 2 |
| 59SF/SR | #6 GOLDEN SHINER | 5.3 | 59 | ASK | 4516508 24394 9 |
| 59SF/SR | [NEW] #07 HOT TIGER | 5.3 | 59 | ASK | 4516508 24755 8 |
| 59SF/SR | [NEW] #08 YELLOW PERCH | 5.3 | 59 | ASK | 4516508 24756 5 |
| 59SF/MR | #1 GHOST WAKASAGI | 5.8 | 59 | ASK | 4516508 24395 6 |
| 59SF/MR | #2 MIRROR WAKASAGI | 5.8 | 59 | ASK | 4516508 24396 3 |
| 59SF/MR | #3 PEARL AYU | 5.8 | 59 | ASK | 4516508 24397 0 |
| 59SF/MR | #4 NOIKE GILL | 5.8 | 59 | ASK | 4516508 24398 7 |
| 59SF/MR | #5 SKELETON CHART | 5.8 | 59 | ASK | 4516508 24399 4 |
| 59SF/MR | #6 GOLDEN SHINER | 5.8 | 59 | ASK | 4516508 24400 7 |
| 59SF/MR | [NEW] #07 HOT TIGER | 5.8 | 59 | ASK | 4516508 24757 2 |
| 59SF/MR | [NEW] #08 YELLOW PERCH | 5.8 | 59 | ASK | 4516508 24758 9 |