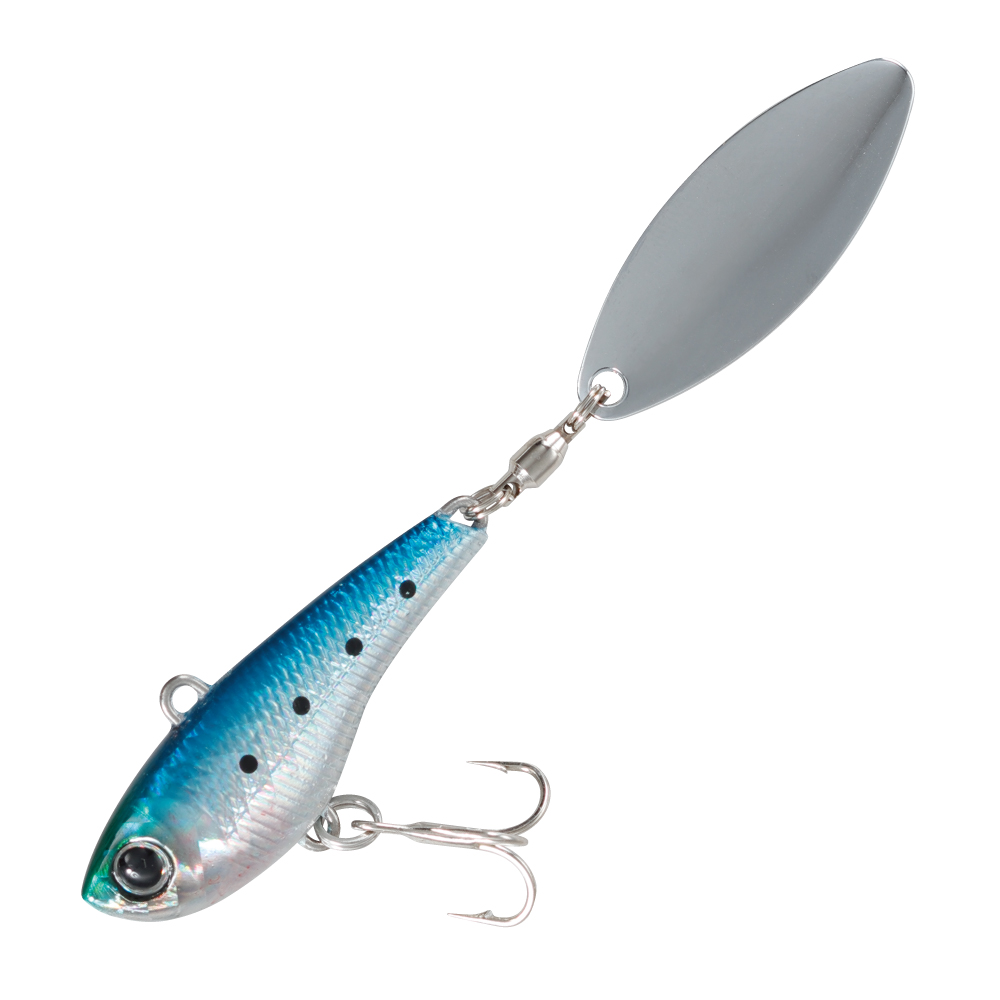 Most Standard Spin Tail Jig for Saltwater
The spin tail jig is often used for fishing in daytime and extensive searching. Its small silhouette body provides high performance inducing bites even from pressured target fish. The small splashing sound during landing water does not make the fish panic, providing more chances for bites. That's why, it's effective also for shooting the boiling with fish. The willow leaf blade's flashing and wave motion enable a light and speedy retrieving, appealing not only to seabass but also to various other blue-backed fish, flatfish, and rockfish.
It comes in two sizes, 80mm-16g and 95mm-29g, with 2 items available in 5 colors each and equipped with hooks.

LINE UP
| MODEL | COLOR | WEIGHT (g) | LENGTH (mm) | MSRP | JAN CODE |
| --- | --- | --- | --- | --- | --- |
| SALT SPIN TAIL 16 | #1 IWASHI | 16 | 80 (40mm+blade) | ASK | 4516508 24321 5 |
| SALT SPIN TAIL 16 | #2 HOT PINK | 16 | 80 (40mm+blade) | ASK | 4516508 24322 2 |
| SALT SPIN TAIL 16 | #3 RED GOLD | 16 | 80 (40mm+blade) | ASK | 4516508 24323 9 |
| SALT SPIN TAIL 16 | #4 CHART BACK PEARL | 16 | 80 (40mm+blade) | ASK | 4516508 24324 6 |
| SALT SPIN TAIL 16 | #5 COTTON CANDY | 16 | 80 (40mm+blade) | ASK | 4516508 24325 3 |
| SALT SPIN TAIL 29 | #1 IWASHI | 29 | 95 (45mm+blade) | ASK | 4516508 24326 0 |
| SALT SPIN TAIL 29 | #2 HOT PINK | 29 | 95 (45mm+blade) | ASK | 4516508 24327 7 |
| SALT SPIN TAIL 29 | #3 RED GOLD | 29 | 95 (45mm+blade) | ASK | 4516508 24328 4 |
| SALT SPIN TAIL 29 | #4 CHART BACK PEARL | 29 | 95 (45mm+blade) | ASK | 4516508 24329 1 |
| SALT SPIN TAIL 29 | #5 COTTON CANDY | 29 | 95 (45mm+blade) | ASK | 4516508 24330 7 |