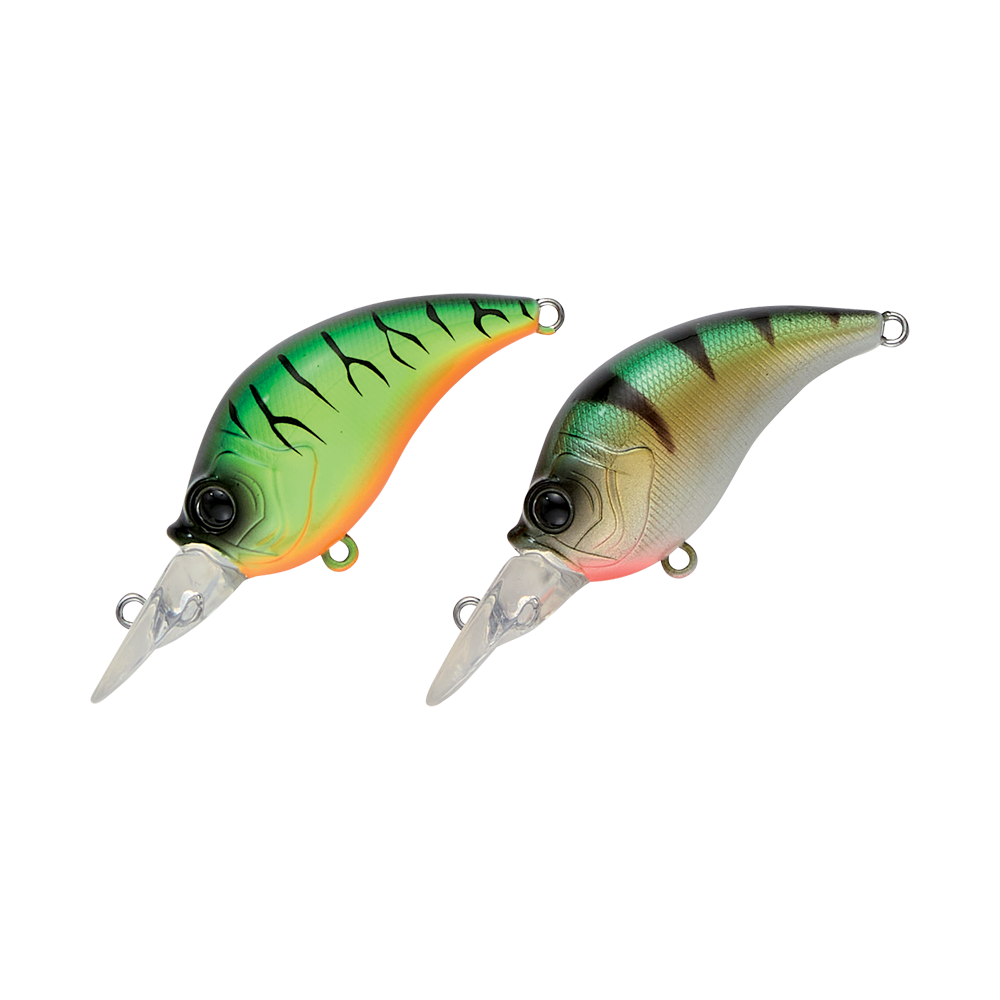 Most Standard Crankbait
Focusing on the angle of approach when the lip hits the cover, the snagless ability is improved.
It has high evasion and swimming abilities, swiftly dodging obstacles and continuing to swim after quickly getting up.
The action is a high-pitched wobble and roll action that strongly appeals to the bass's instincts, inducing numerous reaction bites with strong vibrations and flashing.

LINE UP
| MODEL | COLOR | WEIGHT (g) | LENGTH (mm) | MSRP | JAN CODE |
| --- | --- | --- | --- | --- | --- |
| 50SR | #1 BLUE BACK CHART | 9.0 | 50 | ASK | 4516508 24401 4 |
| 50SR | #2 PEARL SHAD | 9.0 | 50 | ASK | 4516508 24402 1 |
| 50SR | #3 ZARIGANI | 9.0 | 50 | ASK | 4516508 24403 8 |
| 50SR | #4 BLACK BACK CHART | 9.0 | 50 | ASK | 4516508 24404 5 |
| 50SR | #5 PINK BACK PEARL | 9.0 | 50 | ASK | 4516508 24405 2 |
| 50SR | #6 GOLDEN SHINER | 9.0 | 50 | ASK | 4516508 24406 9 |
| 50SR | [NEW] #07 HOT TIGER | 9.0 | 50 | ASK | 4516508 24759 6 |
| 50SR | [NEW] #08 YELLOW PERCH | 9.0 | 50 | ASK | 4516508 24760 2 |
| 50MR | #1 BLUE BACK CHART | 9.0 | 50 | ASK | 4516508 24407 6 |
| 50MR | #2 PEARL SHAD | 9.0 | 50 | ASK | 4516508 24408 3 |
| 50MR | #3 ZARIGANI | 9.0 | 50 | ASK | 4516508 24409 0 |
| 50MR | #4 BLACK BACK CHART | 9.0 | 50 | ASK | 4516508 24410 6 |
| 50MR | #5 PINK BACK PEARL | 9.0 | 50 | ASK | 4516508 24411 3 |
| 50MR | #6 GOLDEN SHINER | 9.0 | 50 | ASK | 4516508 24412 0 |
| 50MR | [NEW] #07 HOT TIGER | 9.0 | 50 | ASK | 4516508 24761 9 |
| 50MR | [NEW] #08 YELLOW PERCH | 9.0 | 50 | ASK | 4516508 24762 6 |