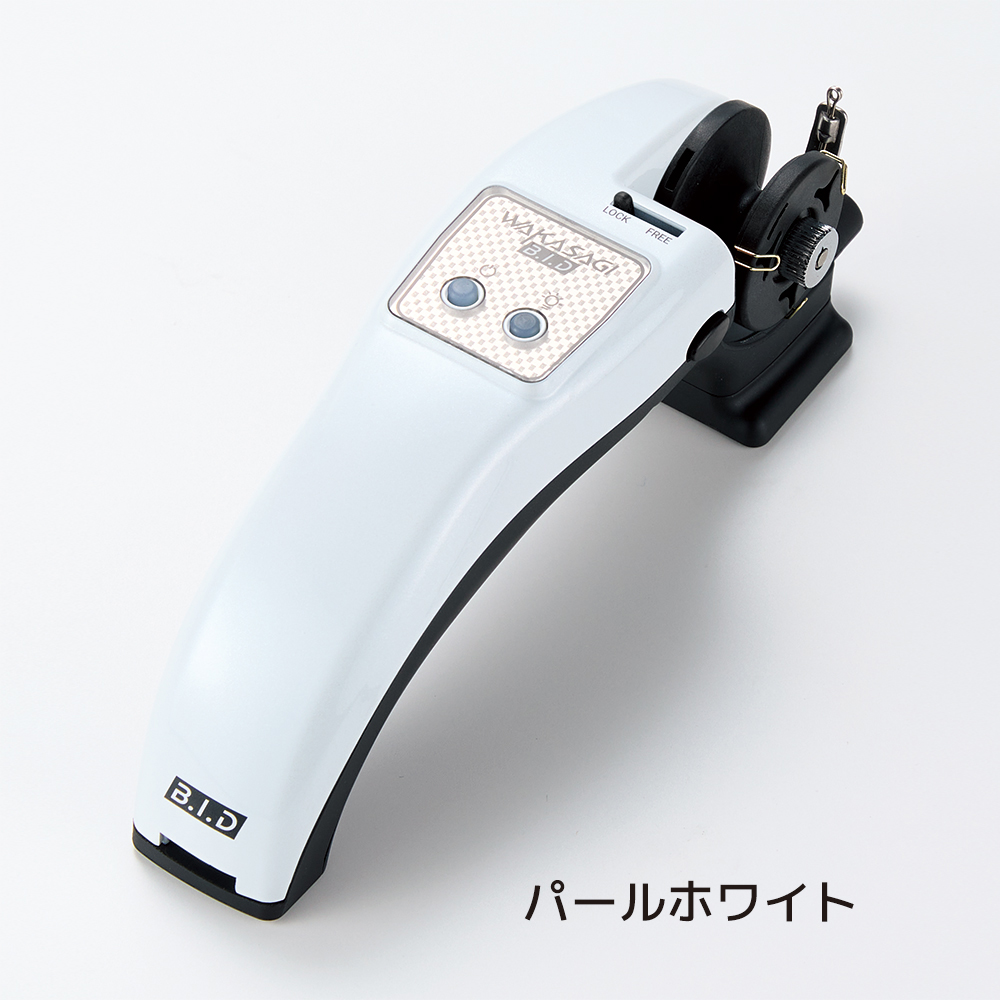 Electric Reel for Wakasagi Fishing
B.I.D electric reel with stylish and simple usability, which is easy to operate! Wakasagi (Japanese smelt) fishing is a great activity, offering enjoyable time and good taste, and can be enjoyed by families and beginners alike. Thanks to its convenience, the use of electric reels has become common sense for wakasagi fishing on boats, on ice, on dome boats, and more. We have created an overwhelmingly user-friendly all-round reel with a focus not only on ease of operation but also on the details of its functions. By combining it with the WAKASAGI B.I.D TOP, you can create a variety of strategies to suit the situation. The stick-shaped body is designed based on ergonomics to fit the hands of more anglers. The vertical 2BB spool has excellent drop performance, allowing for even more comfortable and delicate reel handling.

・Auto power-off function
・Best retrieve speed setting for wakasagi fishing
・Lightweight design weighing only 105g

*Requires separate purchase of two AA batteries (alkaline batteries recommended).

LINE UP
| MODEL | COLOR | WEIGHT (g) | BEARING | MSRP | JAN CODE |
| --- | --- | --- | --- | --- | --- |
| WAKASAGI B.I.D DENDO | PEARL WHITE | 105 | 2 | ASK | 4516508 68353 0 |
| WAKASAGI B.I.D DENDO | METALLIC BLUE | 105 | 2 | ASK | 4516508 68354 7 |
| WAKASAGI B.I.D DENDO | METALLIC RED | 105 | 2 | ASK | 4516508 68355 4 |
| WAKASAGI B.I.D DENDO | METALLIC NAVY | 105 | 2 | ASK | 4516508 68356 1 |
| WAKASAGI B.I.D DENDO | METALLIC BLACK | 105 | 2 | ASK | 4516508 68357 8 |
1.Retrieve button

The retrieve button is located on both sides to accommodate any grip style. If held down for 1.5 seconds or more, the automatic retrieve function will activate.

2.Trouble prevention limit bar

By setting a bead on the line, it will hit the limit bar and stop winding.

3.2BB spool with smooth drop for even ultra-small sinkers

A 2BB spool similar to high-end models that enables a smooth drop.

4.  Non-slip bottom surface processing

A cushioned sole to make it slip-resistant

Instruction and schematic for the WAKASAGI B.I.D electric reel can be found by clicking on the following links:

WAKASAGI B.I.D DENDO instruction