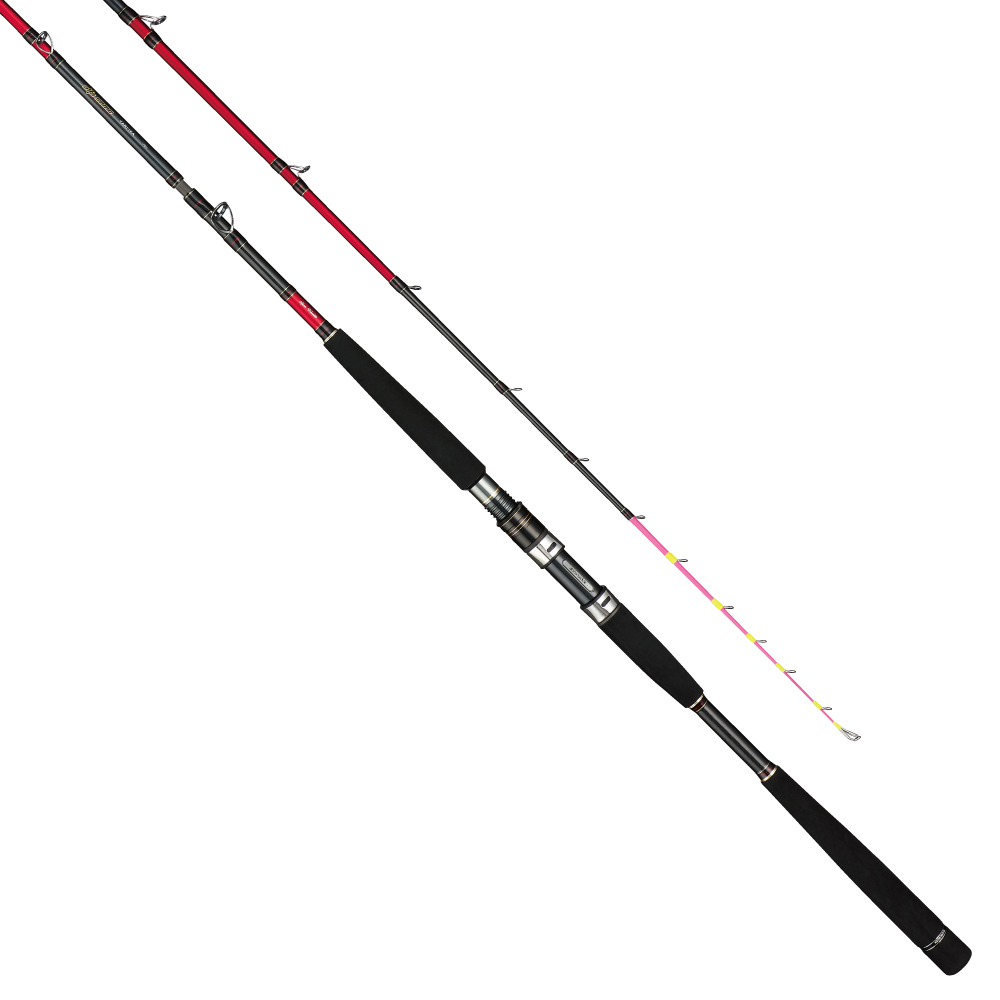 Yariika (Spear Squid) Rod for Expert Anglers
On "yariika (spear squid)" fishing, the angler has to carry a heavy weight over 380g with the rod and move the rig with hand-held style all day long to get delicate bites. The conditions of the good yariika rod are "rod balance", "maneuverability", "sensitivity", "easiness to hook the squid" and so on. Alfa sonic YARIIKA is equipped with the highly elastic 1.7m blank and CTS (Composite Titanium Solid) tip. These components achieve the conditions mentioned above and satisfy all expert anglers of yariika fishing.

After fishing tests with a large number of prototypes, we have derived an exquisite rod balance that does not bother you all day jerking. As result the lightness that you can move the rig and retrieve it with one hand was realized.
Besides, this rod has also high maneuverability that the angler can make the sensitive rig's action even in area with over 150m depth. At last, the Composite Titanium Solid (CTS) tip colored in pink with yellow thread. This super sensitive tip section transmits the delicate bites at the deep bottom to the angler clearly.
All functions of this rod are for comfortable yariika fishing... alphatackle's high end yariika rod debut.


Fuji LDB + KW GUIDES

Fuji LDB & KW guides reduce troubles with the tangled line. All guides are SiC.

COMPOSITE TITANIUM SOLID TIP (CTS)

Super-sensitive Titanium solid tip section with vivid pink base color and yellow thread.
LINE UP
170H
VERSATILE ROD FOR YARIIKA (SPEAR SQUID)
・Versatile yariika rod with 1.7m length.
・The rod action was designed for use with 560g sinker that is mostly used.
・The action has high maneuverability and flexibility to prevent the hook-out.
・Composite Titanium Solid (CTS) tip realizes important motions at a high level such as bottom touch, rig's action, feeling bites, hooking more squids.
・The angler can easily handle a number of squids on one rig due to the power of butt section.
TARGET
Yariika (spear squid)
GUIDE & GRIP
PMNST
5.5-1.5
PLDBSG
5
PLDBSG
5
PLDBSG
5
PLDBSG
5
PLDBSG
5
PLDBSG
5
PLDBSG
5
PLDBSG
5.5
PLDBSG
6
PKWSG
8
PKWSG
10
PKWSG
16



SPEC
| LENGTH (cm) | PIECES | CLOSED LENGTH (cm) | ROD WEIGHT (g) | TIP DIA. (mm) | BUTT DIA. (mm) | SINKER WEIGHT (#) | SINKER WEIGHT (g) | L1(mm) | L2(mm) | MSRP | JAN CODE |
| --- | --- | --- | --- | --- | --- | --- | --- | --- | --- | --- | --- |
| 170 | 2 | 89 | 190 | 1.3 | 12.1 | 100-180 | 380-680 | 660 | 370 | ASK | 4516508 51194 9 |