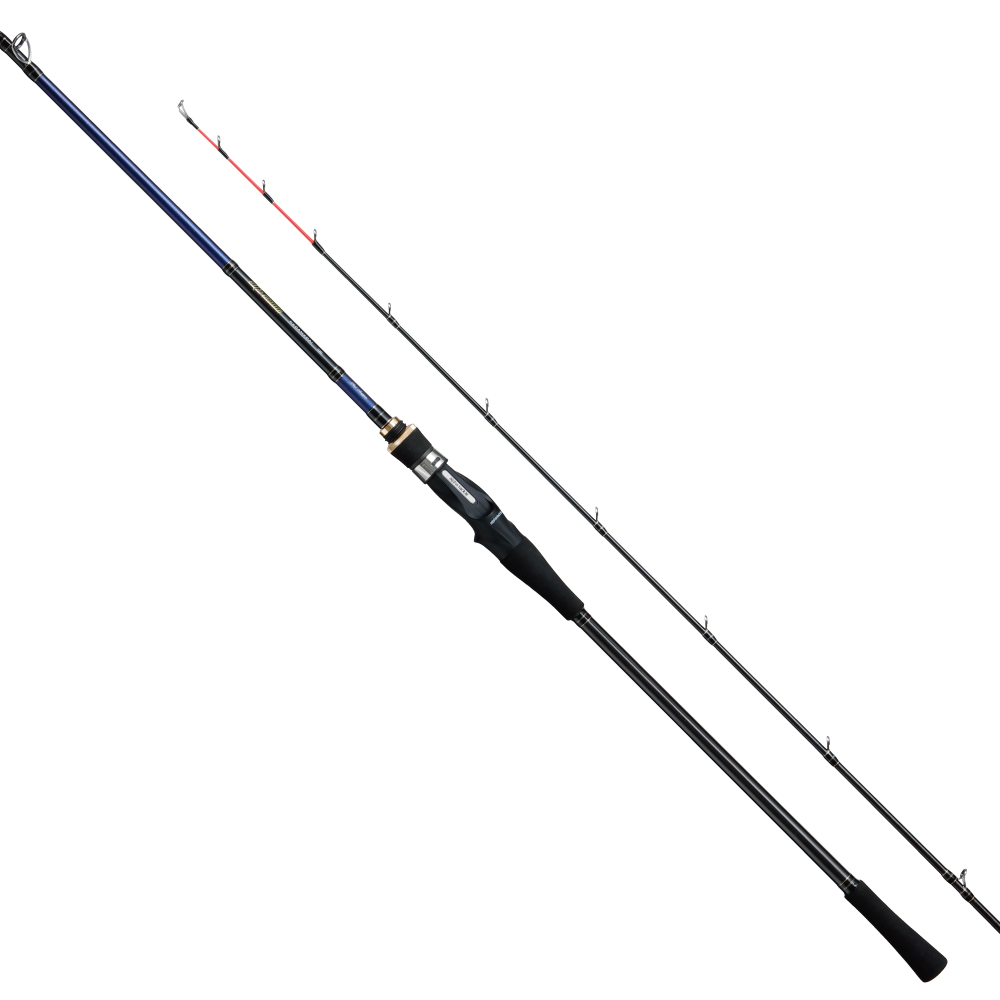 Exclusive Rod with Shape-Memory Titanium Alloy "CTS" for Kada-Madai
An exclusive rod for special "sabiki" fishing in Kada area of Wakayama pref. targeting "madai" (red snapper). We have been working on rods that adapt to this unique traditional fishing method for many years, and we have gathered all that know-how to this rod. Rod action, blank material, guide setting... We reexamined all the elements that make up the rod and realized the optimum taper for "Kada-madai" fishing style.

In Kada-madai fishing, it's especially important to let the rig pass just near the structures as grasping the shape of the bottom. To improve sensitivity for grasping the bottom, we adopted the shape-memory titanium alloy tip section. It's easy to clearly image the ups and downs of the bottom and higher-level attacks are possible. Enjoy the traditional fishing method with this state-of-the-art tackle.

Fuji KT + KW GUIDES

Fuji KT & KW guides reduce troubles with the tangled line. All guides are SiC.

MICRO GUIDE PERFORMANCE (MGP)

The guide system that maximizes the original sensitivity of the rod by setting the light and small guides to the position where the line is near to the top section as much as possible.

COMPOSITE TITANIUM SOLID TIP (CTS)

Super-sensitive Titanium solid tip section with vivid pink base color and yellow thread.

CS45-T

Original reel seat of alphatackle for technical fishing. The simple shape and small trigger part fit to the palm.
LINE UP
220
EXCLUSIVE ROD WITH CTS TIP FOR KADAMADAI
・220 cm length that doesn't make the angler tired even after fishing all the day.
・The rod action is standard regular (7:3) action that is easy to image the state of bottom and to feel bites.
・By adopting the sensitive CTS tip made of shape-memory titanium alloy, it's possible to sense the ups and downs of the bottom vividly and operate the rig precisely.
・It's also possible to sense pre-strikes and let fish bite the bait naturally without doubt.
TARGET
Madai (red snapper)
GUIDE & GRIP
PLGST
5-2.0
PLDBSG
5
PLDBSG
5
PLDBSG
5
PLDBSG
5
PLDBSG
5.5
PLDBSG
5.5
PLDBSG
5.5
PLDBSG
5.5
PKWSG
6
PKWSG
7
PKWSG
8
PKWSG
10
PKWSG
12


SPEC
| LENGTH (cm) | PIECES | CLOSED LENGTH (cm) | ROD WEIGHT (g) | TIP DIA. (mm) | BUTT DIA. (mm) | SINKER WEIGHT (#) | SINKER WEIGHT (g) | L1(mm) | L2(mm) | MSRP | JAN CODE |
| --- | --- | --- | --- | --- | --- | --- | --- | --- | --- | --- | --- |
| 220 | 2 | 114 | 121 | 1.4 | 10.2 | 20-60 | 75-230 | 510 | 400 | ASK | 4516508 51193 2 |